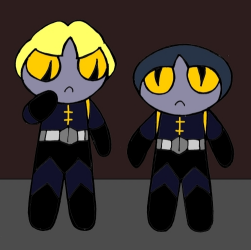 For a while, it seemed like the fun would never end. Then everything abruptly ground to a halt due to a long bout of depression I had for some time. The final pages were actually pretty much done as far as basic layout and pencils went, but I kept putting off the inking and coloring and so forth. I simply didn't care if I finished them. At one point, they got lost amid piles of other papers and junk, and I all but forgot about them for a long, long time...

It took a surgery in September of this year to get the ball rolling once again. With all the time I had on my hands during my recovery I felt like I needed to get something done, and I turned my attention to Clipboard once more. I dug out the remaining pages, looked them over, and set to work. I had much of the pencilling done, but none of the dialogue was written down. Fortunately, I could recall what I planned to write just from looking at what I'd already drawn.

A lot of changes were made this time around. The first thing I did was to type out all of the remaining dialog and print it to have on hand as I worked. Then I cut some pages, added others. I also included a Vehicle Voltron story arc that wasn't originally planned to be there. How it came to be is a tale in itself, but suffice it to say I got by with a little help from my friends, especially SGB of the Voltron Forum. Couldn't have done it without him.

Once I had every page I'd planned on (and a few more I didn't), I finished up the drawings that needed to be done, then each page was inked, scanned, cleaned up, colored and had the dialogue added. After that, it was time to update the HTML code, post the new stuff, and I was done.

Done.

I couldn't believe it, but there it was. I found myself feeling rather happy with the end result. And the reaction from fellow Voltron fans was and is amazing. Many people who read Clipboard have gotten some serious belly laughs and a lot of enjoyment from it, over and above what I'd hoped to achieve. For a fan creating content for others to enjoy, it doesn't get any better than this.